We have been posting on social media sites and not here – until now.  Sorry for the lack of information coming straight from our website.  So to catch all up…
2019
December 9  Western Practice Field groomed for platform work, leaving a nice place to skate ski.  Thank Boe!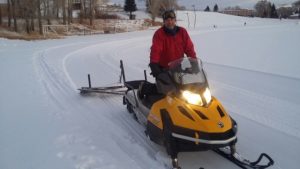 December 15  Dos Rios front nine groomed Sunday afternoon – base is good.  Thanks Clay. New this year – please NO DOGS ON TRAILS AT DOS RIOS.

December 16  Western Practice Field set in evening for Classic and Skate.  Thanks Mark
December 21  Hartman Rocks groomed for Skate and general touring from Base Area to McCabe's.  Thanks Mark (AND Ted and Wick for prepacking)
Jorgensen Park and Van Tuyl Ranch have been packed and need a bit more snow to groom to our standards.  Think snow!